Ohio Tourism Leadership Academy
Sponsored By:

Congratulations to the 2018 Class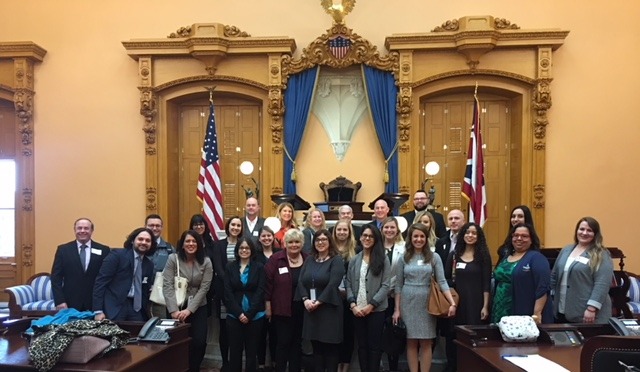 Class members include Matt Robertson, AAA; Sara Park, Ashtabula County CVB; Meghan Rodriguez, Great Lakes Publishing; Cathryn Stanely, Belmont County Tourism Council; Elizabeth Robinson, Cincinnati USA; Jeff Blom, Clermont County CVB; Kelly Florian, Coshocton CVB; Kirstie Mack, Defiance Development and Visitors Bureau; Eric Embacher, Destination Cleveland; Allison Humes, Dublin CVB; Marie Medford, Experience Columbus; Jonathan Eyman, Fun Bus Adventures; Jason Brill, Great Lakes Publishing; Allison Rowe, Visit Canton; Danielle Wilkin, Visit Findlay; Dany Adams, Visit Grove City; Jeni Bertke, Greater Grand Lake Region; James Martin, Hocking Hills Tourism Association; Pam Miller, Indian Lake Area Chamber/CVB; Scott Dockus, Lake County Visitors Bureau; Jennifer Yochem, Lake Erie Shores and Islands; Jamie Glavic, National Underground Railroad Freedom Center; Paola Santiago Del Castillo, TourismOhio, Tonya Prater, Travel Inspired Living, and Bobbi Taylor, Great Ohio Lodges.
Applications Open for 2019 Class
In its 11th year of developing leaders for the Ohio travel economy, the Ohio Tourism Leadership Academy is currently accepting applications.
Questions about applying? Contact Beatrice Mitchell at beatrice@ohiotravel.org
---
Program Details:
Participating in the Ohio Tourism Leadership Academy is more than just learning about the Ohio travel economy and the role you play. It's also about strengthening your network with peers and existing leadership. During each session, you discuss critical regional and statewide issues with leaders from statewide public, private and nonprofit organizations. Learning occurs through panel discussions, presentations, tours, written assignments and other activities designed to deepen your understanding of Ohio travel industry challenges and opportunities, as well as to inspire you to make a difference.
The program consists of six classes with session locations taking place in the Greater Columbus area. Classes are held monthly from January through June. They begin at 10 am and conclude at 3 pm.
Class members have included those from attractions, museums, theme parks, CVBs, local government, state agencies, federal legislators, community development offices, restaurants, hotels and more.


Completed applications for 2019 must be received by the Ohio Travel Association by Dec. 14, 2018. Applicants will be notified of their selection by Dec. 21, 2018. The schedule is provided below for applicants to mark calendars. Tuition for for the 2019 program is $750 for current OTA members and $900 for non-members. Non-member rates include a one-year OTA membership. Payment must be submitted with the application. Those not accepted into the program will be fully reimbursed.
If you have any questions about the program, please contact Melinda Huntley at mhuntley@ohiotravel.org.
---

---
2019 Schedule
Jan. 16
Leadership and the Economy

Feb. 13
Tourism, Arts and Culture

March 13
Legislative Advocacy

April 17
Natural Resources and Outdoor Recreation

May 15
Media and Communications

June 12
Historic Preservation and Heritage, Final Group Projects

October 2019
Graduation During the Ohio Conference on Travel
---