Sponsored By:

---
Program Details:
The mission of the Ohio Tourism Leadership Academy is to provide education, resources and networks needed to develop travel professionals for the state of Ohio. Throughout the course, participants network and learn alongside other tourism professionals within the class as well as guest speakers from around the state.
This program is perfectly tailored for those new to the travel industry, as well as for those wanting to dig deeper. Discover challenges and opportunities unique to the travel industry, and be inspired to execute your value and vision in your career.
Connect to peers in the industry who are currently leading the way, as they introduce you to industry issues and opportunities in such a way that solutions can be envisioned. Gain a basic understanding of the roles and responsibilities of becoming a leader in your organization, community and the state. Build a network of industry colleagues.
Class members have included those from attractions, museums, theme parks, DMOs, local government, state agencies, federal legislators, community development offices, restaurants, hotels and more.
---
Tuition for 2022:
Ohio Travel Association Members: $700
Non-Members: $850
---
What You Can Expect:
The program consists of the first three sessions January through March held virtually via Zoom; the last three sessions April through June will be held in-person (tentatively) at locations in Central Ohio. Virtual sessions are generally 1.5 hours while in-person sessions are typically 10 a.m. to 3 p.m. once a month. Optional Zoom chats will also be held January through March for a chance to dive deeper into topics. Here's what you can expect:
An elite and prestigious program built around pertinent topics you need to know
Topics and education that you'll take with you into your career that you'll remember for years to come
Mentoring and an instant network of professionals who want you to succeed
Uncovering tourism inside and out
Networking with peers and decision-makers in the tourism industry
---
Schedule:
The following is a tentative schedule. Please mark your calendars. We will avoid altering the dates, but the subject and speakers may change based on need.
Zoom Meetings - For our first three months, we'll have a virtual meeting from 9 to 10:30 a.m. and optional coffee chats from 9 to 10 a.m.
January — A Guide to the Tourism Economy - Wednesday, Jan. 12
Meet your classmates!
Overview of the program
Economics of the travel economy
Marketing travel in Ohio
Wednesday, Jan. 19 (optional)
Coffee Chat - Conversation on leadership
February — Legislative Advocacy - Tuesday, Feb. 15
Hear from a colleague on how statewide law changes were made
Advocating for Ohio travel
Advocacy 101
Wednesday, Feb. 23 (optional)
Coffee Chat – Working collaboratively with local governments
March — Partnerships and Consensus Building - Wednesday, March 9
Arts in Ohio
How to build consensus, rally support and manage relationships
Wednesday, March 16 (optional)
Coffee Chat – Why different perspectives are vital
April — Outdoor Recreation and Natural Wonders - Wednesday, April 6
Held in-person (tentatively) in central Ohio
Ohio's opportunities in outdoor recreation
Working with ODNR
Understanding outdoor recreationist markets
May — Getting Around and Getting the Word Out - Wednesday, May 11
Held in-person (tentatively) in central Ohio
All roads lead to tourism. Hear about signage and designation programs that benefit tourism
Crisis communications and working with the media
June — History in the Making - Wednesday, June 15
Held in-person (tentatively) in central Ohio
Partnering with history and heritage
Working with Ohio History Connection
Rallying others around an idea


If you have any questions about the program, please contact Melinda Huntley at mhuntley@ohiotravel.org.
---
Ohio Tourism Leadership Academy Classes of 2020 & 2021!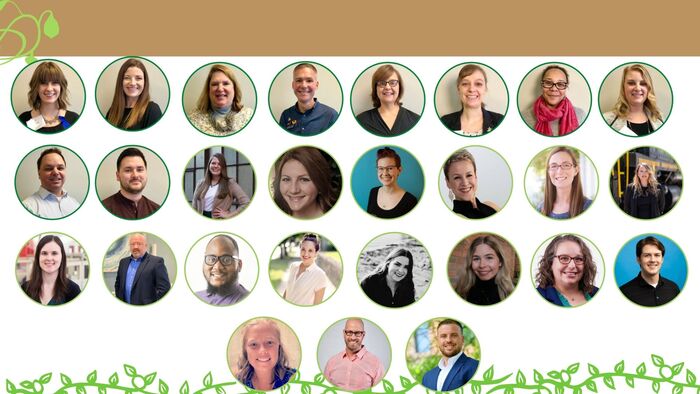 2020/2021 Graduates
Jill Jentes Banicki, OSU - Sea Grant
Rachel Bechtol, Coshocton County Convention and Visitors Bureau
Kim Conrad, City of Grove City
Laura Felberg, Visit Canton
Emily Lloyd, Butler County Visitors Bureau
Jeremy Naylor, COSI
Margaret Price, Great Lakes Publishing (now with Ashtabula County Convention & Visitors Bureau)
C. Dava Range, Destination Cleveland
Brooke Robinson, Belmont County Tourism Council
Neil Stein, Lake County Visitors Bureau
Alexander Trujillo, Explore Licking County
2021 Graduates
Ryan Berry, Darke County Visitors Bureau
Dayna Brownfield, TourismOhio
Shannon Carter, Holmes County Chamber of Commerce & Tourism Bureau
Jesse Dotson, TourismOhio
Mercedes Graham, Travelhost
Sarah Herrick, The Orchard Bar & Table
Marty Conley, Lawrence County Convention and Visitors Bureau
Katelyn Gainer, Cuyahoga Valley Scenic Railroad
Meredith Gilbert, Ohio Department of Natural Resources
Bryce Riggs, Tiffin Area Chamber of Commerce
Emily Schofield, Ohio History Connection
Kevin Seymour, COSI
Mallory Skrobot, Ohio History Connection
Amy Spoutz, Athens County Convention and Visitors Bureau
Kitty Stevens, Ohio Magazine
Olivia Toth, Knox County Convention and Visitors Bureau
Zach Warmouth, Experience Columbus
Mackenzie Wittmer, National Aviation Heritage Area
---
Questions about OTLA? Contact Melinda Huntley at mhuntley@ohiotravel.org
---

---