Travel Research Round-Up for this Week
What travelers are thinking, doing and needing changes constantly. To help you make sense of the research findings each week, the Ohio Travel Associations provides this one-page summary.
Travel Sentiment Research
TRAVELERS RESPOND TO SUMMER ACTIVITIES; COVID-19 AND THE VACCINE STILL INFLUENCES WHEN TRAVELERS WILL START TRAVELING
Key findings from Longwoods International Apr. 14-19:
87% of respondents said they have travel plans in the next six months.
Some activities travelers plan to participate in during summer include:

57% said dine at a restaurant.
53% said go to relax or relocate at an ocean, lake, or river.
32% said participate in outdoor activities or adventures.
23% said visit an amusement park, theme park, or water park.
22% said visit a museum, art gallery, or other arts/cultural institution.

COVID-19 still influences the decisions to travel in the next six months with 35% of respondents say it greatly impacts their decision and 13% saying it has no impact at all.
As for perceptions of safety:

21% said they strongly support opening their community to visitors, 7% strongly disagree.
20% feel very safe traveling outside their community, 5% feeling very unsafe.
24% feel very safe dining at a restaurant and shopping at retail stores, 7% feel very unsafe.

The vaccine also continues to impact when travelers plan to travel.

33% said they will wait until they receive the vaccine to travel.
34% said the vaccine has no impact on their travel plans.
20% are waiting to travel until majority of people are vaccinated at the destination of interest.
20% will wait to travel until majority of Americans are vaccinated.
19% will wait to travel until their friends and family are vaccinated.
17% will wait to travel until majority of their community is vaccinated.
MANY ARE OPEN TO TRAVEL INSPIRATION NOW; ROAD TRIPS HAVE GROWN DURING THE PANDEMIC
Key findings from Destination Analysts fielded Apr. 16-18:
This week, 71.9% of American travelers say they are in a ready-to-travel mindset compared to 28.1% who are not ready to travel.
63.4% are highly open to travel inspiration right now.
Three-quarters of American travelers did some travel planning and dreaming in the past week, with 16.4% actually making a reservation or booking.

51.8% booked a hotel room.
32% bought airline tickets.
24.1% made rental car reservations.
18.3% booked a home sharing service, like Airbnb.
15.5% bought amusement park tickets.
14.4% bought museum or attraction tickets.
13.7% bought tickets to a sporting event.

More than 75% of respondents will take at least one trip in the next three months.
With more inspiration to travel right now, American travelers are showing a receptiveness to travel messing in a variety of channels.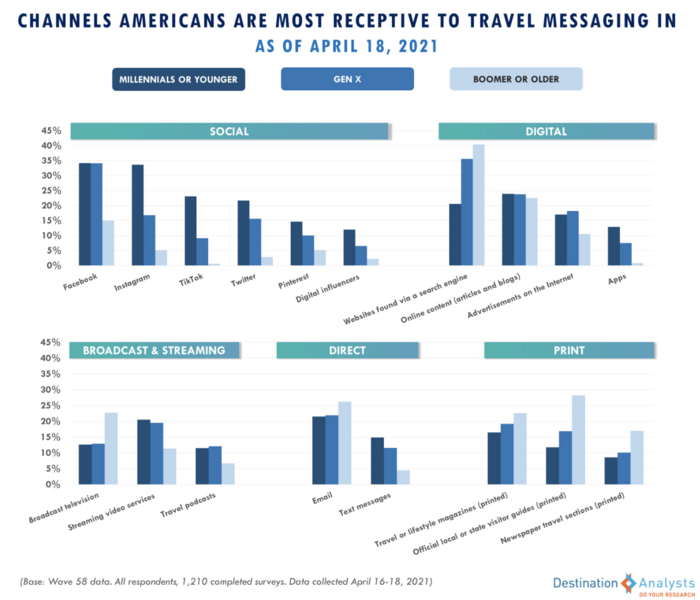 Highlights from graph:

Social media is most common for younger travelers.
TikTok is growing as a channel for travel influence with nearly a quarter of younger travelers saying it is ideal place to reach them.
Older travelers remain largely committed to Facebook.
Search engine marketing remains key for travel marketing, particularly to reach older travelers.

An important proportion of travelers are looking to print resources like travel and lifestyle magazines.
Americans have shown an increase in happiness when seeing their own communities advertised for tourism.

50.4% said they would feel happy or very happy if they saw an ad promoting the area they live.
17.4% said they would feel unhappy or very unhappy if they saw an ad promoting the area they live.
39.5% said they aren't ready for tourism in their community yet.

Two-thirds of Americans took a road trip during the pandemic.

The average number of road trips taken by Americans during the pandemic was 2.5.
51% say their pandemic road trips have made travel by car more appealing.
62% of pandemic road-trippers agree their experience has reminded them of how fun a road trip can be.

Business travel continues to recover slowly.

56% of those employed by companies in which there is business travel say it has resumed, up from 48% from the week of March 7.
47% of business travelers feel the COVID-19 pandemic will change the way their employer does business travel.
52% of business travels said they hope not to travel as much as they did for work before the pandemic.