Complete Story

07/10/2020
Weekly Updates for Ohio's Travel Economy, July 10
TWELVE (12) COUNTIES NOW AT LEVEL 3. FACIAL COVERINGS MANDATED.
During the Governor's press conference today, the following counties were announced as being a Level 3 Public Health risk, therefore, initiating mandatory facial coverings for all within the counties. Level 3 counties are being advised to limit activities as much as possible. Huron County was lowered to a Level 2 which removes the facial covering mandate.
Hamilton County (approaching Level 4)
Butler County (approaching Level 4)
Cuyahoga County (approaching Level 4)
Clermont County
Fairfield County
Franklin County (removed from the watch list as approaching Level 4)
Lorain County
Montgomery County
Summit County
Wood County
Trumbull County
Pickaway County
Facial coverings are required:
In any indoor location that is not a residence
When outdoors and unable to consistently maintain a distance of six feet or more among individuals who are not members of their household; and
When waiting for, riding, driving or operating public transportation, a taxi, a private car service or a ride-sharing vehicle. This does not apply to private or rental vehicles where members of a family are sharing a vehicle, nor does it apply to vehicles engaged in direct travel through a county that does not stop in that county.
Those not required to wear facial coverings include the following:
Individuals under 10 years of age
A medical condition, including those with respiratory conditions that restrict breathing, mental health conditions or disability contraindicates the wearing of a facial covering
The individual is communicating or seeking to communicate with someone who is hearing-impaired or has another disability, where the ability to see the mouth is essential for communication
The individual is alone in an enclosed space, such as an office, and which space is not intended for use or access by the public
The individual is actively engaged in exercise in a gym or indoor facility so long as six or more feet of separation between individuals exist
The individual is actively participating in athletic practice, scrimmage or competition that is permitted under a separate Department of Health order
The individual is actively engaged in a public safety capacity, including but not limited to law enforcement, firefights or emergency medical personnel
The individual is seated and actively consuming food or beverage in a restaurant or bar
When facial coverings are prohibited by law or regulation
When facial coverings are in violation of documented industry standards
When facial coverings are in violation of a business's documented safety policies
Individuals actively participating in broadcast communications
Individual is an officiant of a religious service
---
ECONOMIC LOSSES IN OHIO TRAVELER SPENDING NOW EXCEED $6.8 BILLION
Based on US Travel's tracking of weekly spending, Ohio has experienced a loss of traveler spending exceeding $6.8 billion since the beginning of March resulting in a loss of state tax revenues of $162 million, $346 million in federal tax revenues, and a loss of local tax revenues exceeding $98 million.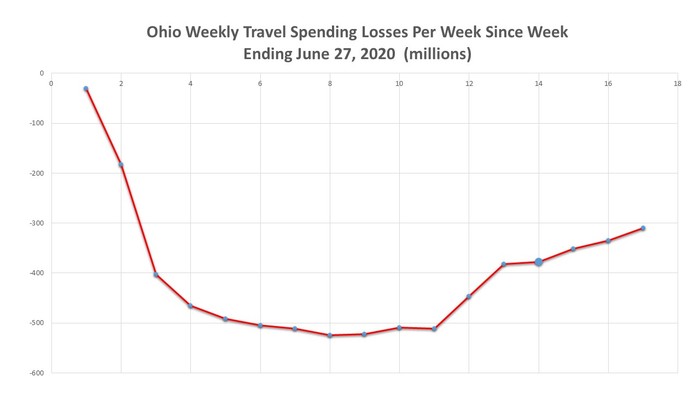 ---
LONGWOODS STUDY SHOWS LESS INTENT TO TRAVEL
According to the most recent Longwoods International tracking study of American travelers, three-fourths are changing their travel plans because of the coronavirus pandemic, the highest level since mid-May. And the percentage of Americans who have travel plans in the next six months has dropped to 65%, the lowest level since the April 1. This is likely due to the rising cases being experienced through most areas of the country.
Support for opening local communities to visitors has dropped to 34%, the lowest level since mid-May. And the percentage of American travelers who now feel safe traveling outside their community has fallen to 41%, also a low since mid-May. The percentage of Americans comfortable dining in local restaurants and shopping in local stores also declined, from 47% two weeks ago to 40% in the most recent survey.
---
SURVEY SAYS MANDATING MASKS IS GOOD FOR PUBLIC HEALTH AND BUSINESS
Let's talk about face coverings for a moment. Starting tonight at 6 p.m., face coverings will be required by all in the seven counties throughout Ohio showing the highest indicators of virus spread. Not complying with this regulation is a misdemeanor. Even if your county is not mandating face coverings for your guests (remember, face coverings are mandatory for employees in Ohio), many attractions, hotels, retailers are requiring masks for entry. We are hearing of more and more every day making this a requirement.
More than 70% of potential visitors say mandatory face coverings will make them feel safer.
Colleen Dillen/Know Your Bone research team has been tracking consumer behavior for months, looking at what will make travelers comfortable to visit museums, botanical gardens, aquariums, nature areas, etc. When asked June 29 what would make them feel safe and comfortable going to a museum, aquarium, theatre, zoo or concert again, most survey respondents said availability of a coronavirus vaccine (74%). This hasn't changed as the top indicator of safety.
What's really interesting is that mandatory face coverings has risen from 54% of respondents to more than 70% in the last two weeks, surpassing "seeing others visit" as the second most popular reason. After reviewing this research, as well as other questions that looked at intensity of mask-wearing as essential from both sides of the issue, the authors declared "research suggests that not requiring masks will have a greater negative impact on attendance than requiring them for a vast majority of organizations." Read more here.
---