Economic Updates
EDA SETS ASIDE $750 MILLION IN GRANTS EXCLUSIVELY FOR THOSE WITH JOB LOSSES IN THE TRAVEL, TOURISM AND OUTDOOR SECTOR INDUSTRIES
The Economic Development Administration (EDA) has set aside $750 million in EDA grants exclusively for communities and states who have experienced severe job loss in the travel, tourism and outdoor sector industries.
US Travel is working with EDA to open the grant application process as soon as possible. In the meantime, reference EDA's Guidance for DMOs and establish contact with your nearest regional EDA office before applying. In addition, please find details on who is eligible and how to apply in the EDA grant fact sheet.
Travel Research Round-Up for this Week
What travelers are thinking, doing and needing changes constantly. To help you make sense of the research findings each week, the Ohio Travel Associations provides this one-page summary.
Travel Sentiment
AMERICAN TRAVELERS ARE GEARING UP FOR SUMMER TRAVEL; OUTLOOK ON TRAVEL CONTINUES TO BE OPTIMISTIC
Key findings from Destination Analyst fielded Mar. 29:
Many American travelers are saying yes to summer vacation.

62.5% report they are traveling for leisure this summer.
Summer travelers currently have 2.2 trips planned for the season on average, with July staying the peak month with 50.4% of these travelers planning to vacation then.
70.4% say they will travel out-of-state, 8.1% report planning to go aboard.
California and Florida dominate the states Americans say they are heading to.

Two-thirds of American travelers have or will take a COVID-19 vaccine, and the majority continue to believe they will be inoculated by summer.
82.0% say they idea of travel is made more comfortable by receiving a COVID-19 vaccine.
76% of American travelers believe that proof of vaccination should be required for international travel.
American travelers appear to be optimistic about their financial future. 3-in-10 American travelers say they are financially better off now compared to a year ago.
In terms of devoting their income to travel:

39.9% said right now is a good time for them to spend money on leisure travel.
41.7% expect to spend more on leisure travel in the next 12 months.

American optimism is even more prevalent in their travel outlook.

Over 53% of Americans feel the pandemic situation will improve in the U.S. over the next month.
66.6% reported being in a ready-to-travel mindset.
Nearly two-thirds report being highly open to travel inspiration.
61.4% exhibit strong excitement at the prospect of traveling now.

A positive attitude towards travel can be seen in Americans' current trip plans.

Over 71% did some travel dreaming or planning in the last week.
Of this 71%, 16.2% booked or made reservations.
Two-thirds of American travelers say they have trip plans in the next three months.
42.0% say they are going to travel more in the next year compared to previous.
41.3% of those traveling in the next three months are planning to visit urban destinations.
WHAT CONSUMER DEMAND RECOVERY COULD LOOK LIKE FROM COVID-19
Key findings from Bookings.edu:
At the McKinsey Global Institute, a study was done analyzing consumer demand and behavior during the pandemic in China, France, Germany, the U.K., and the U.S.
The research found that the pandemic experiences varied widely across income, age, and geographies, not in terms of just health, but the economic impact, too.
After analyzing consumer spending according to disposable incoming and age and examining behavioral shifts forced on consumers, it was found that over the exceptional nature of the shock provides reason to be optimistic for a fast rebound in consumer spending once the pandemic is over.
The 10-20 percentage-point spike in the savings rate (doubling in the U.S.) left many households in a strong position to spend.
Looking closer at recovery by segments, examining nine segments divided into low, middle, and high income and young, middle, and old age, it is found the recovery in consumer demand is likely to be uneven, especially in the U.S.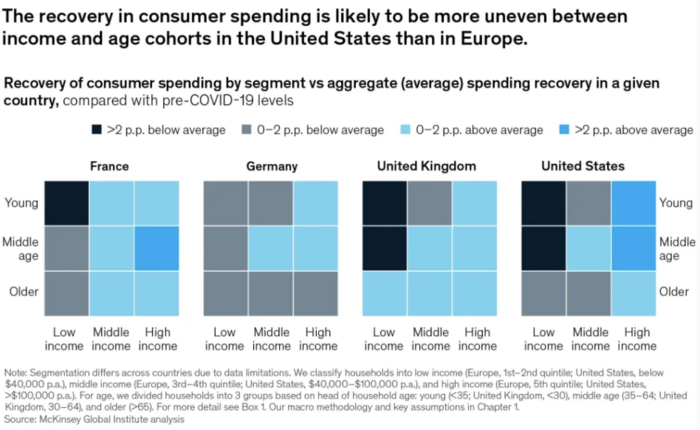 It was expected that spending by middle- and high-income cohorts in the U.S. to bounce back to pre-COVID-19 levels between 2021 and 2022.
It was found that spending by lower-income cohorts could drop below pre-COVID-19 levels once stimulus measures expire as lower-income households have lost jobs or face income uncertainty.
During the pandemic, long-standing consumer spending habits were interrupted, accelerated, or reversed.
To determine if these pandemic induced behaviors will continue, six consumption shifts that cover a broad range of consumer life and are drawn from sectors that cover almost three-quarters of consumer spending was examined.
This examination included:

Online grocery shopping.
A sharp decline in live entertainment.
The emergence of home nesting.
Decrease in leisure air travel.
The switch to remote learning
An increase in virtual health care visits.

In the end, it was found online grocery shopping, virtual health care visits, and home nesting are likely to stick. However, leisure air travel, remoting learning, and live entertainment will likely revery closer to pre-pandemic patterns.
It was also found that the speed and depth at which behavioral changes embed themselves within a population also depends on the actions of the government and industries.
The analysis has led to conclude the shape and structure of consumer spending may be quite different, and this may lead to even greater polarization of consumption.