Complete Story

09/03/2020
Weekly Updates for Ohio's Travel Economy, Aug. 31 - Sept. 4
Economic Impact Update
OTA DIRECTOR MELINDA HUNTLEY ADDRESSES INDUSTRY CHALLENGES IN COLUMBUS DISPATCH
Here is the full article submitted, part of which was printed Saturday, Aug. 29:
Recent news articles describe how sales are good at some Ohio outdoor-related businesses. We are grateful there are pockets of the state where businesses are doing well, but these pockets are the only thing intact in a coat that is shredded and falling apart at the seams.
As of Aug. 15, Ohio's travel economy has lost $8.8 billion in travel spending, according to year-over-year data compiled by Tourism Economics. When we take to the road, even if it's just a weekend jaunt or a day trip, we spend money. When we travel for business or attend a conference, we spend money. These dollars support jobs in hotels, restaurants, museums, attractions, theatres, retail shops, gas stations and dozens of other businesses.
While Ohio's overall unemployment numbers may be in the single-digits, nearly 147,000 Ohioans who depend on jobs from travel-related businesses are out of work. July's unemployment report shows more than one out of four employees within this industry are unemployed. Those working in the arts, entertainment and recreation are experiencing a whopping 38% unemployment rate in Ohio, while those employed in accommodations and food services are at 24% unemployment.
It's not just travel-related jobs that are at risk.
The ripple-effect of these losses will be devastating. Less revenue means these businesses will have fewer dollars to spend on goods and services to operate. According to a report distributed by TourismOhio, these travel-dependent businesses spent $10.3 billion last year to support finance, insurance, real estate, manufacturing, construction and every other Ohio industry.
Fewer travelers and less spending also means less tax dollars for public services – support for education, roads, fire and police protection, libraries and other social services. To date, taxes paid by travelers are down $258 million in state receipts and $154 million in local government receipts.
Let's be very clear. The losses will continue.
There are still Ohio businesses who are not permitted to open, including performing arts venues. Most of the businesses supported by travel that are open are operating at drastically reduced capacity. Meetings and conventions are capped at 300 persons regardless of venue size, and most events are at a standstill. Businesses that are open are finding it increasingly difficult to make ends meet given fewer customers and limited capacity.
As a large percentage of leisure travel-related sales occur in the summer months, we will see additional furloughs and layoffs this winter as businesses are not able to make payroll.
We applaud the Governor for his efforts to curb the coronavirus spread. Getting control of the virus is absolutely essential for getting our people back to work. As the hardest hit of any Ohio industry, however, the Ohio travel industry and its workers desperately need help. Industry-specific relief is needed at all levels, including what you can do.
Support your local hotels, restaurants, attractions, museums, theatres, retailers, wineries and breweries any way you can. If you aren't comfortable visiting in person, order online, purchase a membership or consider making a donation.
And please wear a mask so these Ohio businesses can stay open.
Melinda Huntley, Executive Director, Ohio Travel Association
Travel Research Updates
INFO ON PREFERRED TRAVEL MARKETING CHANNELS, 36% ANTICIPATING FALL TRIP
Destination Analysts released its weekly survey fielded Aug. 28.
Key Findings to Know:
The perception of travel activities as unsafe is the lowest it has been since June 15.
Americans have also demonstrated improvement in their state of mind around travel readiness, and fall travel expectations improved to 35.9% from a low of 29.8% last week.
Americans prioritization of travel in their personal budgets is growing. Now, 43.0% of American travelers say that leisure travel will be at least a somewhat high priority in their personal budget in the next year and a majority of American travelers say the pandemic has not negatively impacted the disposable income they have available for travel. However, they indeed plan on being more budget conscious on their trips than they were prior to the pandemic.
Although sentiment is turning more positive, the pandemic is nevertheless still impacting travel at a high rate. 49% of American travelers have cancelled a trip due to COVID-19 and trips for the upcoming national Labor Day and Thanksgiving holidays currently look to be off by half relative to 2019.
Americans may need more information and assurances to move them to take trips, as 46.1% report that they are "not very" or "not at all" confident that they can travel safely in the current environment. In comparison, 29.7% feel confident or very confident they can travel safely.
Americans see travel as a means to achieving their desired emotional states, with over a third of American travelers feeling that if they took a trip this year, the emotions most negatively impacted by the pandemic would strengthen.
When asked how travel marketers could best reach them, email is productive across all generations. Gen X and Boomers appear particularly receptive to search engine marketing right now, while Millennial and younger travelers like travel marketing via Facebook and Instagram.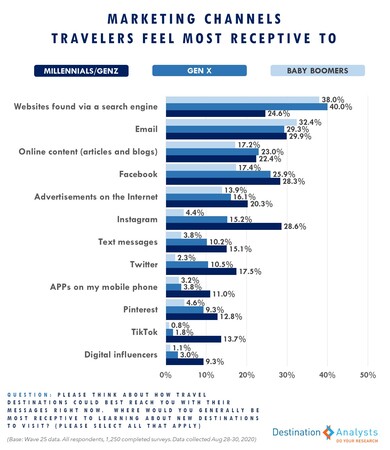 TRAVEL CONFIDENCE INCHING UPWARD IN LATEST LONGWOODS STUDY
Longwoods International released its weekly Travel Sentiment Study - Wave 19 today, fielded Aug. 26.
Key Findings:
Heading into Labor Day Weekend, traveler confidence is showing positive signs of rebounding.
The percentage of those confident in traveling outside their communities jumped to 49%, the highest level since early May.
The percentage of those confident in dining in local restaurants and shopping in local stores is also up to 48%, the highest level since the May 13 low of 31%.
a majority of American travelers indicate they plan on taking a trip in the next six weeks… road trips being most popular.
Almost 70% of Americans indicate that they plan to travel in the next six months.
Almost half of American travelers now report feeling safe in traveling outside their communities.
---