Complete Story

04/24/2020
Travel Intentions and Ohio Economic Impact
A Wrap-Up of the Latest Research
OHIO TRAVELER SPENDING IS DOWN 84% - A $511 MILLION LOSS THUS FAR
US Travel reports 84% less travel spending in Ohio as of 4/18. This is a $511 million loss. As a result, state tax returns from travel businesses to-date are down $15 million, local tax returns are down $9 million and federal tax returns are down $32 million.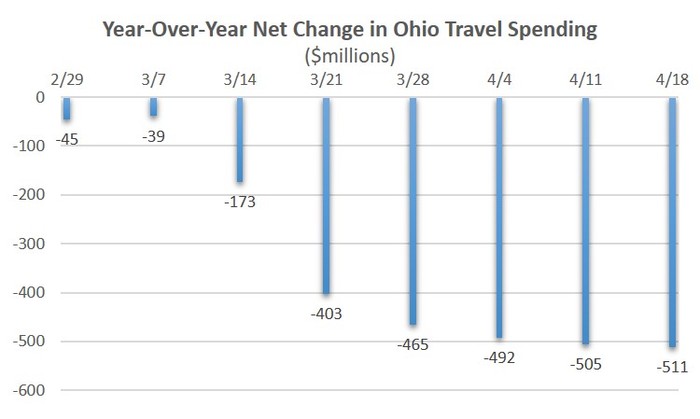 HISTORIC SITES AND NATURAL AREAS AMONG THOSE TRAVELERS LIKELY TO VISIT
Glimpses at how travelers may possibly change behaviors is available through research conducted by H2R Market Research on April 14. Although a relatively small sample size (603 American traveler respondents), the survey gives us a peek at what travelers are thinking.
When asked what consumer behaviors are likely to linger after the immediate crisis is over, the following were indicated:
Avoiding all non-essential air travel (46%)
Avoiding visiting indoor attractions where crowds may congregate (45%)
Avoiding public gatherings where large numbers of people may congregate (45%)
Avoiding public swimming pools and/or water park attractions (39%)
Staying close to home rather than traveling for leisure on getaways or vacations (38%)
Ordering takeout or delivery instead of dining in restaurants (28%)
Most (71%) indicated they will need to hear some sort of government "all clear" message before they will consider visiting a destination for leisure travel, but this is down 5% from early April. Whether or not a destination has new COVID-19 cases was identified by 47% and needing to see other travelers venturing out again was mentioned by 38%.
Historic landmarks/places (30%), national/state parks (27%), natural wonders (25%), history museums (20%), brewery/winery tours (19%), theaters (18%), zoos/animal attractions (18%), botanical gardens (17%), science centers (17%) and family entertainment centers (17%) topped the list of places they are most likely to visit.
Let's think about that list, however. If you look at the fact that survey respondents identified avoiding indoor attractions and crowds among the top behaviors they anticipated, many of the places they said they intend to visit are representative of these types of experiences. This indicates that it will be really difficult to measure any type of intent to visit until people are moving again.
It's also important to remember that intentions to visit these types of attractions weren't compared to data pre-COVID and doesn't measure changes in intention. We know that American travelers desire different kinds of experiences in general.
AMERICAN TRAVELER WEEKLY STUDY SHOWS INTENT TO TRAVEL TRENDS
The latest Traveler Sentiment Study by Longwoods International (Fielded 4/15) shows intent to travel among American travelers. To view Longwoods President and CEO Amir Eylon walk through the data, view our April 22 webinar here. Highlights of this week's survey include the following:
21% of American travelers are shifting travel plans from fly-in to drive destinations which should benefit Ohio
Concerns about COVID-19 is impacting their decision to travel in the next six months, above concerns about transportation costs and economic issues.
72% of American travelers are planning to travel in the next six months. This indicate there will be a pent-up demand when it is safe to travel again.
Travel articles in printed magazines are being used the most to interact with travel content this week. Other top content included 2-3 minutes online videos, televised travel shows, travel guides, and live stream online videos.
---