Complete Story

04/12/2019
OTA and its Partners Pursue Competitive TourismOhio Funding
Travel Promotion Leads to More Travelers and Traveler Expenditures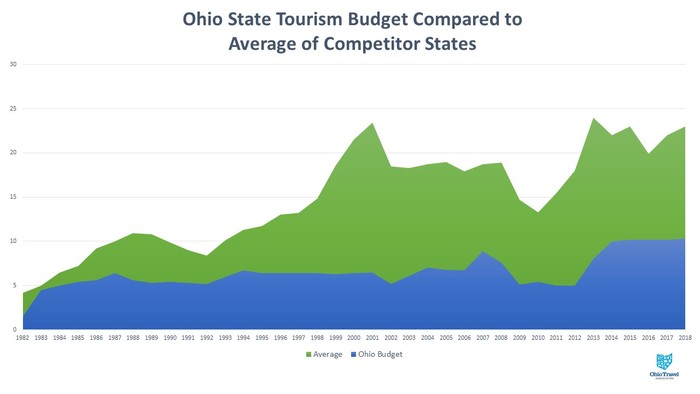 It's a noisy world full of messages coming at us from all directions. If your competitors are out-spending you, then you risk having your messages drowned out by the crowd.
The Ohio Travel Association has been working with its partners at the Ohio Association of Convention and Visitors Bureaus and the Ohio Hotel & Lodging Association to boost TourismOhio funding to a more competitive level. In the governor's version of the budget released a few weeks ago, the funding was proposed at $10 million each year. This is less than half what most of our competitive states spend to lure some of the same customers.
"The travel economy, when aggressively pursued, has the ability to generate additional sales tax revenue for Ohio," said Lee Tasseff, OTA Legislative chair and Destination Mansfield/-Richland County president. " The better Ohio can compete in the tourism marketplace, the greater the return and research has proven that time and again. To paraphrase a business truism, it is said that in today's environment, if one is merely maintaining, one is falling behind."
The average tourism office funding in our competitive set is more than $23 million. Our competitive set includes those whose states are vying for our customers' attention - Indiana, Illinois, Michigan, West Virginia, New York, Kentucky and Pennsylvania.
We are requesting amendments to the budget that would set the funding at $18 million a year. A copy of the request letter sent by all three organizations to key leaders follows:
**
On behalf of more than 24,000 Ohio businesses and communities who depend on a strong travel economy, we are requesting your consideration of $18 million in TourismOhio funding each year to remain competitive and to effectively launch Ohio's brand.
In 2017, the most recent figures available, travel in Ohio generated $44 billion for Ohio businesses - spending that supports 428,000 Ohio jobs and generated more than $1.2 billion in state tax dollars. Funding TourismOhio at $18 million each biennium accomplishes the following:
Leverages additional partnerships
Evens out the playing ground by more closely aligning Ohio with its competitors
Increases Ohio's position as a destination of choice through increasing awareness of the "Ohio. Find it Here." brand and messaging
Our business partners are excited, and they support the "Ohio. Find it Here." brand. We believe now is the time to saturate the marketplace with messaging to build public awareness for the brand. As stated on several occasions, both publicly and privately, Governor DeWine has expressed support for "Ohio. Find it Here." and has challenged department heads across the state to find ways to integrate the brand into their messaging. This effort will be most effective if Ohioans and others are aware of the brand. We believe most people will be introduced to the brand through exposure during TourismOhio marketing spends. This awareness will serve as the launchpad for recognition as the rest of government adopts the brand.
Ohio trails Michigan's spending as our main competitor in the tourism space by 250%. Michigan spends $35 million and Ohio has held firm at $10 million for the past five years. The specific ask of $18 million would still only bring Ohio to just over half of the Michigan budget. Others in our competitive set include Illinois--$37 million, Indiana--$5 million, Kentucky--$13 million, Pennsylvania--$3.5 million, West Virginia--$11 million and New York--$70 million. When looking at the competitive set, it is clear Ohio has a tremendous opportunity to catch up with more aggressive spends while pulling far ahead of states that are neglecting the industry.
Marketing Ohio as a destination of choice leads to more travel and traveler spending. Research shows that those who see destination marketing are more likely to stay longer and spend more. Research has also shown that those seeing TourismOhio advertising are also more likely to think about Ohio as a good place to go to college, live and start a business.
Specifically, we are respectfully asking that you increase TourismOhio funding for this key economic development activity to $18 million each year.
---