04/30/2015
More than 2.4 million visitors experienced National Park Service sites in Ohio last year. During their visits, they spent $155 million in communities near each park or site. Last week, the National Park Service released "2014 National Park Visitor Spending Effects: Economic Contributions to Local Communities, States, and the Nation." This report provides a snapshot of national and site-specific spending, as well as the overall impact this spending has on local communities as the visitor dollar flows through the economy. Spending by visitors to Ohio's NPS units supported 2,700 jobs in 2014. Total economic impact of these sites on the Ohio economy is $225 million when adding the business-to-business sales for goods and services that occur in addition to the direct visitor spending.
---
04/30/2015
George Papagiannis from UNESCO toured Ohio in mid-April, speaking in several communities about the World Heritage designation process. Hosted by the Ohio History Connection, Papagiannis said it can take three to four years for a site to move from the tentative list to coming before the World Heritage Committee, which ultimately is responsible for making the decision on whether a site is deemed appropriate for World Heritage Status. Ohio History Connection also sat down with Papagiannis for an in-depth interview.
---
04/30/2015
Forecasting Travel in the Future; Planning for Change Today
Thinking about how travel will change 15 years from now is difficult stuff. How will technology change the way our travelers seek out, book and experience travel? How will population growth, multiculturalism and an aging population create change?
---
03/31/2015
Cult Marketing and Marcus Thomas leaders address TourismOhio Advisory Council meeting
Last week, TourismOhio announced the selection of Cult Marketing and Marcus Thomas LLC to lead the development of brand architecture and media strategy, respectively. Both agencies have Ohio roots and experience developing campaigns for large corporate clients. Cult Marketing has worked with Rocky Boots, Bath & Body Works, Dublin Irish Festival, Nationwide Insurance, and Scotts. Marcus Thomas' clients include Akron Children's Hospital, the Downtown Cleveland Alliance, Dutch Boy, and Nestle.
---
03/30/2015
What's the Connection?
After speaking at two regional trails conferences over the last few weeks, we share our thoughts on the economic opportunities of trails. Included are tips for how to make your community "trail-friendly".
---
03/27/2015
By: Susan Glaser, The Plain Dealer
The team is in place. The work is under way. The goal: Take the many diverse parts of the state -- big cities, small towns, vast farmlands, a Great Lake -- and capture all of it in a single brand.

Posted by Ohio Travel Association on Friday, March 27, 2015
---
03/23/2015
Melissa Topey, Sandusky Register
---
03/19/2015
Laura Nichols, PR Week
---
02/26/2015
Established in 1991, the scholarship is presented to support a travel, tourism or hospitality student from Ohio
Erin Holter of North Royalton, is attending Johnson and Wales University pursuing hospitality, culinary and restaurant management. She would like to use her education to plan and create healthy, unique meals on a large scale for big events and hopes to begin her own banquet facility or event planning business.
---
02/26/2015
30th Annual Group Travel Showcase Attracts National Tour Operators, Highlights Ohio Group Tour Destinations
(Chicago, IL) 2/26/15 - More than 500 destinations, tour operator companies and media partners from across America's Heartland region gathered at the Hyatt Regency in downtown Chicago Feb 20-22. For those in attendance, the 30th annual Heartland Travel Showcase, produced by the Ohio Travel Association, was an opportunity to promote group travel itineraries, develop professional relationships, and learn about the group tour market.
---
02/13/2015
More than 85 industry representatives shared ideas and thoughts
Last fall, the Ohio Travel Association partnered with Ohio State University to explore the professional development and education needs of our industry. Before the report is finalized and distributed, OTA reached out to the industry at regional meetings throughout Ohio.
---
02/09/2015
William G. Pomeroy Foundation Supporting Heritage and Tourism
The William G. Pomeroy Foundation is now offering grants for Ohio Historical Markers and Ohio Corporate Limit Markers in Erie, Huron, and Seneca counties.
---
02/04/2015
Presentation Given at Ohio Craft Brewery Association Conference in Wooster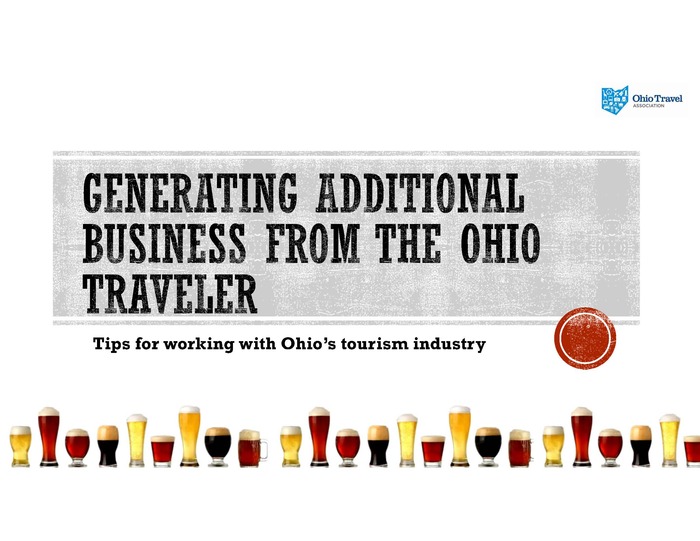 Speaking before craft brewery business owners and managers is a great opportunity to generate ideas for boosting their business and enhancing the brewery experience in Ohio. OTA Director Melinda Huntley discusses what travelers are seeking, how craft breweries provide the experiences they're seeking, and how to connect to the travel industry.
---
02/03/2015
Ohio Development Services Agency Director and TourismOhio Chief Share Information on Industry Conference Call
2/3/15 (Columbus) - DSA Director David Goodman and TourismOhio Chief Mary Cusick discussed programs and services available to help Ohio's tourism businesses during a conference call, Feb. 3, 2015.
---
11/20/2014
Track most popular outdoor activities, including those that include an overnight stay
The Ohio Department of Natural Resources recently released its Ohio Statewide Comprehensive Outdoor Recreation Plan (SCORP, for short). This study provides useful information for travel industry businesses and organizations who want to incorporate nature-based activities in their strategies.
---
11/20/2014
New Studies Reveal the Potential Impact and Applications of "Big-Data"
---
11/20/2014
Agenda included ethics training, discussion of draft strategic plan, and 2015 funding
---
11/20/2014
Co-Op Opened to Industry Nov. 17
---
11/20/2014
Board of Directors Builds on 3-year strategy
---
10/30/2014
Guidelines Provided for Assessing Risk, Prevention, Preparing, Responding and Recovery
As discussed at the 2014 Ohio Conference on Tourism, the Ohio Travel Association will be keeping you informed on resources and guidelines related to the recent Ebola virus outbreak. Thanks to our partners at the U.S. Travel Association, preliminary guidelines are available.
---
10/30/2014
Graduating Class Represents Diverse Sectors of Ohio Travel & Tourism Industry
Nineteen travel industry professionals graduated from the Ohio Tourism Leadership Academy during the 2014 Ohio Conference on Tourism. There are now 88 alumni of this innovative and powerful program. Applications for the 2015 program are being accepted until Nov. 28.
---
10/30/2014
Nearly 300 Industry Members Attend 2014 Ohio Conference on Tourism
Members of Ohio's travel and tourism industry gathered this month in Springfield for the Ohio Conference on Tourism. The event included education, networking, and industry celebrations. Mark your calendars for Nov. 16-18 for the 2015 Ohio Conference on Tourism at the Hilton-Polaris in Columbus.
---
10/27/2014
Karen Raymore Sworn in as OTA President
At the 2014 Ohio Conference on Tourism in Springfield, Karen Raymore was sworn in as the 2014/15 Ohio Travel Association President. Other officers include Eric Hansen (Hotel and Leisure Advisors) as Vice President, Jodi Burroughs (Hocking Hills Canopy Tours) as Treasurer, Richard Nachazel (Destination Toledo) as Secretary, and Lute Harmon Jr (Great Lakes Publishing) as Past President.
---
10/27/2014
Summary of OTA Membership Results Provides Insight for the Future
Here's a quick glance at what you, the OTA membership, want from your Ohio Travel Association.
---
10/27/2014
Those Exposed to DMO Promotions More Likely to Book, Stay Longer, Spend More
A new study by the global technology and analytics firm, Rocket Power, demonstrates the role of destination marketing in influencing travelers to book on online travel agency sites.
---
10/21/2014
Winners of the 2014 Ruby Awards were announced and celebrated Oct. 16 at the Ohio Conference on Tourism in Springfield. Presented annually by the Ohio Travel Association, the Ruby Awards recognize advertising, marketing, and public relations excellence in Ohio's $38 billion travel industry.
---
10/20/2014
A Look at how our Jobs are Meaningfully Different
This speech was delivered by Melinda Huntley, executive director of the Ohio Travel Association, at the 2014 Ohio Conference on Tourism in Springfield, Ohio.
---
10/09/2014
Trends and Tips to Help You Attract Group Travel
Adapted from a recent Heritage Ohio presentation, this article is a Group Travel 101 filled with research and information on Ohio's $1.14 billion group travel market. In addition to discussing the basic buying process of group travel, it talks about the changing dynamics, trends, and creating group experiences that will sell.
---
09/17/2014
The Ohio Travel Association is proud to present the slate of candidates for the 2013 OTA Board of Directors election. The election will be held at the 2013 OTA Annual Meeting held in conjunction with the Ohio Conference on Tourism on October 17, 2013 at 1:00pm. Register online at http://www.ohioconferenceontourism.com Candidates for the OTA Board of Directors will be available for questions at the Meet the Candidates Breakfast, sponsored by Meredith Travel, October 17 at 8:00am.
---
08/27/2014
Ryan Little isn't just an intern. He's a passionate student and young professional who will learn from OTA and help the team in any way. He is interning with OTA for the fall semester, working on website and content development, event marketing and planning and social media marketing.

Ryan is a senior at The Ohio State University majoring in marketing with a minor in professional writing. Ryan has been involved with several organizations, including Mount Leadership Society and Sigma Alpha Epsilon fraternity where he is currently serving as treasurer.
---
08/19/2014
New Report Shares Findings of Recent Studies and Conversations with Ohio's Tourism Businesses
The Ohio Travel Association and the Ohio Department of Natural Resources collaborated on regional meetings in late 2013 to discuss opportunities and challenges for promoting and developing nature tourism experiences. This report shares these findings, as well as recent studies.
---
08/07/2014
OTA and ODNR Team Up for Tourism Day at the Ohio State Fair
---
08/06/2014
Discusses several federal policy decisions that would help our industry prosper
The Ohio Travel Association and the United States Travel Association hosted a listening session with Congressman Jim Jordan (R-Urbana) on Aug. 6. In addition to hearing about key issues for Ohio's tourism industry, the Congressman toured the Rutherford B. Hayes home and the presidential museum. Christie Weininger, executive director at the Rutherford B. Hayes Presidential Center, provided a fascinating tour filled with stories of the former president's family and political life.
---
07/18/2014
New report shows visitor spending supports 2,300 jobs
A new National Park Service reports shows that the 2.4 million visitors to Ohio's national parks in 2013 spent $149 million and supported 2,300 jobs in the state. The report also states that the 16-day government shut-down of parks in 2013 accounted for a decline in parks' visitation and consumer spending.
---
06/27/2014
BY: Jason Fallon, ODNR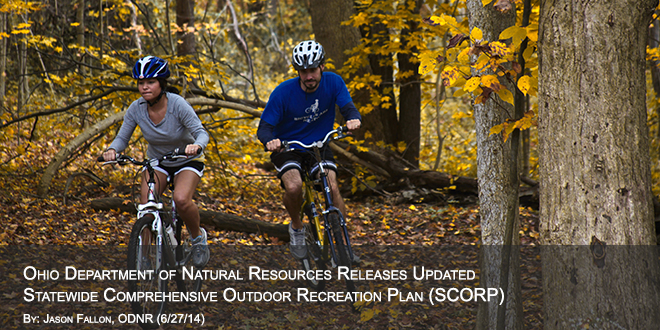 (Columbus) 6/27/14 - Ohio's Statewide Comprehensive Outdoor Recreation Plan (SCORP), updated in 2013 and valid for 5 years, sets Ohio's outdoor recreation strategies and funding priorities. It establishes Ohio's eligibility to receive and award federal Land and Water Conservation Fund (LWCF) monies. The Ohio Department of Natural Resources (ODNR) just posted this great publication full of exciting and valuable information on their website
---
06/19/2014
Find out more about PUCO regulations of ferryboats and our state's utilities
The Ohio League of Conservation Voters presents the The Ohio Conservation Forum to hear how the Public Utilities Commission of Ohio works we have asked a former chair Todd Snitchler to meet, to hear from him about the PUCO, and to hold a rare question and answer session. If you have questions how the PUCO does what it does or about issues including energy efficiency and energy sources in Ohio this would be an important meeting for you to attend. The cost is free. Event location: Franklin County Soil and Water Conservation District Address: 1404 Goodale Blvd #100, Columbus, OH 43212 Friday, June 27th 1:00pm to 2:30pm The Ohio League of Conservation Voters presents the Ohio Conservation Forum on Friday, June 27 at 1 p.m. Former Chair Todd Snitchler will talk about how PUCO works and field your questions.
---
06/05/2014
By: Jeremy Myers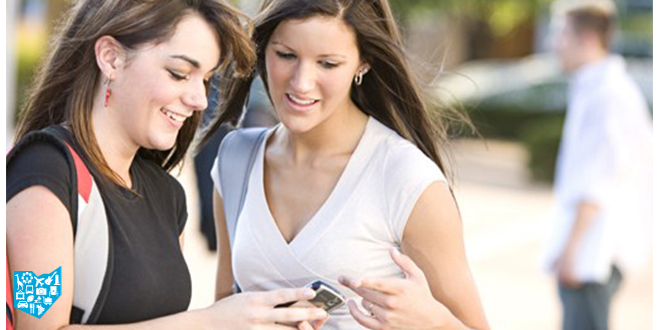 A recent study by Google and Ipsos shows conclusively that travelers expect and want relevance from advertisement delivered through their mobile devices. This research shows that four out of five smartphone users want search ads that are customized to their immediate location. These location-based ads fulfill a consumer's needs by returning an attractions's address, turn-by-turn directions, a phone number and business hours. By developing a location based advertising strategy—one that considers a person's current location—Ohio tourism destinations will be be able to provide visitors with the information they need, while driving increased sales...
Read More
---
06/05/2014
Looking for Feedback from Front-Line Workers
To better understand the training and education needs of the tourism workforce, the Ohio Travel Association is working with the Ohio State University on a workforce development assessment. What skills are most important for our jobs? Where are the opportunities to build the expertise and talents of our workforce? What skills do front-line workers need, and how do they prefer to be trained?
---
03/04/2014
3/4/14 (Columbus)-Representatives of Ohio's historical sites and business community (including several from the tourism industry) gathered at the Ohio Statehouse on Feb. 27 for the 2014 Statehood Day hosted by the Ohio Historical Society, Heritage Ohio, and Preservation Ohio. Statehood Day is an opportunity for attendees to meet with legislators on important history related topics. The 2014 event emphasized the... Read More>>

---

03/04/2014 3/4/14 (Columbus) -Over half million Ohio hunters may be impacted by recently proposed changes to ODNR regulations, including increased permit fees, county-by-county bag limits, and relaxed rifle restrictions. The Division of Wildlife just held a series of public meetings to gather comments about the new regulations. Added cost may be a factor for some hunters during the 2014-15 season if new rules take effect, particularly a planned increase to Read More>>

---

05/30/2013

---

05/21/2013

---

05/21/2013

---

03/27/2013