03/04/2014
3/4/14 (Columbus)-Representatives of Ohio's historical sites and business community (including several from the tourism industry) gathered at the Ohio Statehouse on Feb. 27 for the 2014 Statehood Day hosted by the Ohio Historical Society, Heritage Ohio, and Preservation Ohio. Statehood Day is an opportunity for attendees to meet with legislators on important history related topics. The 2014 event emphasized the... Read More>>

---

03/04/2014 3/4/14 (Columbus) -Over half million Ohio hunters may be impacted by recently proposed changes to ODNR regulations, including increased permit fees, county-by-county bag limits, and relaxed rifle restrictions. The Division of Wildlife just held a series of public meetings to gather comments about the new regulations. Added cost may be a factor for some hunters during the 2014-15 season if new rules take effect, particularly a planned increase to Read More>>

---

02/14/2014 2/12/14 (Columbus, OH) - A lively public forum between leaders of TourismOhio and Travel Michigan on Feb. 12 highlighted the different approaches of the often rival states in marketing to potential travelers. The lunch discussion at the Columbus Metropolitan Club was presented by Bob Evans Farms in partnership with Ohio Travel Association and Experience Columbus and featured current TourismOhio Director Mary Cusick in a candid, often humorous conversation with former Ohio Tourism Director and current Visit Michigan Vice President, George Zimmermann.

Moderated by Experience Columbus CEO Brian Ross, t
he conversation
included background on the challenges both states have faced in the past, a lighthearted exchange on the virtues of regional spot advertising buys versus national ad buys, and future marketing strategies for both states.

Ms. Cusick, a former marketing execu
...
Read More>>
---
02/13/2014
By: JEREMY MYERS, Membership & Communications Manager
Owners and directors of small tourism-related organizations across Ohio very often fall into the trap of believing their business is not large enough or does not have the resources to require the development of written job descriptions for every employee or position.
I hear from OTA members regularly that they and their employees wear many hats. We are so busy, just the thought of writing a description of the specific tasks an employee performs seems overwhelming and time-consuming. In reality, choosing to rely on verbal communication to define job requirements leads to confusion, frustration, and could cost your organization time through inefficiency.
So, what is a job description?
You've certainly heard the phrase, but let's define it. A job description is a plain-language tool that describes the tasks, duties, functions and responsibilities of a position...
---
02/13/2014
By: Melissa Dutton

Tourism officials in Erie and Ottawa counties know that visitors to Lake Erie's Shores and Islands don't pay attention to which county they are recreating in. They realized travelers just want to play on the beach, visit the attractions and enjoy good meals.
"The consumer doesn't know where the county line is and doesn't care," said Joan Van Offeren, executive director of the east bureau of Lake Erie Shores & Islands.
In recognition of how arbitrary the county line was to visitors planning trips to the area, the two county convention and visitors' bureaus decided in 2007 to join forces. Today, a new entity, Lake Erie Shores & Islands, works to promote the region that includes such major destinations as Cedar Point, Sandusky's indoor water parks, Kelleys Island and Put-in-Bay.
The united effort benefits all parties, added Larry Fletcher, executive director of the west bureau of Lake Erie Shores & Islands. Visitors only have to connect with one entity when planning...
---
02/13/2014
Ohio Tourism Leadership Academy Enters 6th Year of Shaping Professionals
Emerging leaders from across Ohio met on Tuesday, Jan. 14 at the Vern Riffe Center for the first Ohio Tourism Leadership Academy of 2014. The class discussed tourism economics and the role of the Office of TourismOhio in marketing the state as a tourism destination. Class members broke into groups at the second OTLA meeting on Feb. 11 to begin working on a group project to benefit the industry.. The assignment encourages class members to explore an issue or opportunity in the industry, develop possible solutions, and present their concept. The assignment is a great way to learn how to manage an industry-based project and drive it forward with the help of colleagues and peers.
---
01/28/2014
Eight Expensive and Slow Solutions Presented
Recognizing the importance of Lake Erie to the overall economy, including the $11.5 billion in tourism dollars generated annually in Ohio by visitors to the counties bordering the lake, the U.S. Army Corps of Engineers, the U.S Fish and Wildlife Service, and The U.S Geological Survey continue to study preventative methods to keep the Asian Carp out of the Great Lakes.
Because the Asian carp is able to out-compete native species of fish such as perch, bass and walleye, the impact on the commercial and recreational fishing industries could be catastrophic, with serious impact on tourist activities, including the 700 registered charter boat captains operating out of Lake Erie.
---
01/28/2014
TourismOhio and McDonald's Partner For Second Year
For a second year, TourismOhio and McDonald's are partnering to increase visits to Ohio destinations during the summer. McDonald's customers who purchase a large fountain drink from April 28 - June 9, 2014, will receive discounts at featured Ohio destinations. Ohio tourism destinations are encouraged to express interest in participating as one of a limited number of co-op partners. In 2013, Hocking Hills Canopy Tours and Wild Zipline Safari owner Jodi Burroughs saw an increase in exposure and awareness at both locations after participating in the pilot year of the co-operative marketing program.
---
01/28/2014
2013 RUBY Award Winners Debbie Stamper and Jenna Dill Discuss Tactics
Gene Strickland likes to compare social media to free kittens.
"Kittens are free, but you have to feed then," says the assistant professor at Columbus State College. Similarly, social media outlets must be fed information in order to be successful.
To get the most from social media, businesses and organizations need to have a robust, interactive presence, said Strickland. Ohio tourism industry members who have recently been recognized for their social media prowess agree. Would-be visitors are looking for organizations that will engage them.
---
01/06/2014
Group Tour Media Offers Handbook with Helpful Hints
Group Tour Media offers "8 Keys to Attracting Group Tours: Insights into the Group Tour Industry," a compendium of helpful hints for developing and marketing group experiences.
---
12/31/2013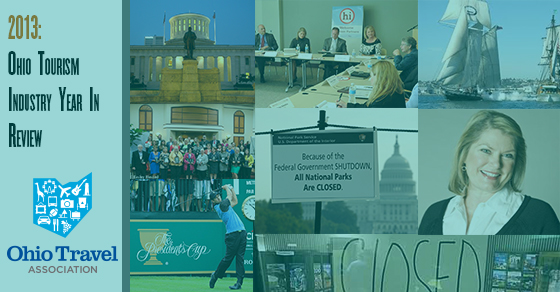 The Top 10 Tourism Related News Stories of 2013
---
12/09/2013
OTA Suggests Balanced Messaging
Last week, Cong. Marcy Kaptur called together a meeting of those most involved and/or impacted by Lake Erie and tributary water quality issues.
---
12/05/2013
---
11/20/2013
Wrap Up of What Was Discussed and Learned
Thirty-one (31) tourism industry members gathered at the Ohio Historical Society in November to discuss opportunities for Ohio's Travel Information Centers. ODOT had indicated that they will cease brochure distribution as of 12/31/13, but the Ohio Travel Association, Ohio Association of Convention and Visitors Bureaus and the Office of TourismOhio requested time to present some alternatives. These three groups then pulled together a meeting of interested industry members to discuss.
---
11/18/2013
Ohio Development Services Director David Goodman announces Mary Cusick will head TourismOhio.
---
11/18/2013
Bowling Green State University is looking to place junior and senior tourism, leisure and event planning students in internships and/or practicums every quarter. These students are required to complete 3-9 hours per week for 15 weeks for practicum experience and a minimum of 40 hours per week for 15 weeks as an internship. These positions can be paid or unpaid. Students come from all over the state, and many are interested in working close to their hometowns.
---
11/15/2013
Contact Us with Concerns
Here's your chance to voice opinion on the Tourist-Oriented Directional Signage Rules administered by ODOT.
---
11/13/2013
The Society for Human Resource Management, in collaboration with the U.S. Travel Association, recently released a study about the use of vacation time and the impact on the workplace. Their findings support yet another reason why travel is important – to our economy and our lives.
---
11/12/2013
Check with Your Health Care Plan Provider to Ensure Compliance
According to the Society for Human Resource Management, group health plans will soon be required to make sure that co-pays, deductibles, caps on doctor visits, etc. that apply to mental health or substance abuse benefits are the same as for those on medical and surgical benefits.
---
11/11/2013
Your Ohio Travel Association board gathered Nov. 6-7 for its annual planning retreat. Although the room only held 26 or so, there was a general feeling that there were many more present. That's because we spent a lot of time reviewing the OTA membership survey where you voiced your thoughts and opinions, and we also compared general membership responses to board responses to make sure our board fully understands what's important to you, our Ohio tourism industry partner. There was little variance, which was a great sign that the leaders you elected to represent you and your industry are in touch with what you're thinking.
---
11/11/2013
Seven tourism industry members were named to the TourismOhio Advisory Board last month. According to the law passed during the 2012 summer, nine members are to be named from specified sectors of the industry, including one representative from each of the following: convention and visitors bureaus, lodging, restaurants, attractions, special events and festivals, and agritourism. Three TourismOhio Advisory Board members serve at large.
---
10/30/2013
Originally capped at 10 years
Today, the House concurred with Senate amendments to allow county commissioners to propose a zoo levy for any number of years, or for a continuing period of time. Previously, the levies were limited to a term of 10 years. The zoo may be operated and maintained by the county itself or by a nonprofit corporation organized to promote the natural sciences.
---
10/28/2013
Expedia Releases Report that Shows Differences between Generations
We've all heard about the differences between generations, and this report identifies some important differences in their travel behaviors. Why is this important? Well, for one thing, the report says that those 18 to 30 years of age are more frequent travelers, for both business purposes and leisure. If you want to capture their buying power, then understanding their travel habits and expectations is vital.
---
10/24/2013
Becomes the 39th Paul Sherlock Award Recipient since 1975
Pat Crow was recognized with the state's highest tourism industry honor, the Paul Sherlock Award, during the Ohio Conference on Tourism, Oct. 16. The executive director of the Knox County Convention & Visitors Bureau and the Woodward Opera House redevelopment project manager, Crow was presented the peer award at the Cincinnati Marriott North, West Chester.
---
10/09/2013
Sixty-five percent of Ohio's tourism business are concerned over near- and long-term results on the economy
In its second week, the U.S. government shutdown is impacting Ohio's economy. Sixty-five percent (65%) of OTA members who took part in a survey about the issue said they are very concerned or somewhat concerned that additional impacts may be felt if the shutdown continues.
---
09/16/2013
The Ohio Travel Association is proud to present the slate of candidates for the 2013 OTA Board of Directors election. The election will be held at the 2013 OTA Annual Meeting held in conjunction with the Ohio Conference on Tourism on October 17, 2013 at 1:00pm. Register online at http://www.ohioconferenceontourism.com Candidates for the OTA Board of Directors will be available for questions at the Meet the Candidates Breakfast, sponsored by Meredith Travel, October 17 at 8:00am.
---
09/13/2013
Shares What Works in Promoting Destinations Brands and Helping Boost Delegate Participation
Marketing Challenges International has released a new report, Social Media Marketing for Global Destinations in the Meetings and Conventions Industry, offering strategy tips on the use of social media for the important meetings and convention market.
---
09/12/2013
Dan Sharpe of the Columbus Foundation, Kathy Blickley from the Nationwide Insurance Foundation, and Kendra Wecker from the Ohio Division of Wildlife shared their tips on Focus on Tourismcreating and submitting proposals that'll get funded during OTA's recent Focus on Tourism event, "Show me the Money:Finding & Securing Funds for your Tourism Project", held August 27 at COSI.
---
09/12/2013
Urges Development Services Agency to Appoint TourismOhio Advisory Board
Rep. Mike Dovilla called a meeting of the Ohio House Committee on Policy and Legislative Oversight on Sept. 10 to hear updates on the implemention of TourismOhio-related legislation as a result of Senate Bill 314 passed last year. The meeting was held at Kalahari Resort and Conference Center in Sandusky. More than 45 Ohio tourism industry stakeholders attended to show their support and to share stories on the economic importance of tourism and how TourismOhio has helped build their business.
---
09/09/2013
Ranks 19th with a 1.2% Market Share
According to the Overseas Estimation for U.S. States, Cities, and Census Regions 2012 report issued by the Office of Travel and Tourism Industries, 28% more international visitors came to Ohio in 2012 than in 2011.
---
09/03/2013
Deadline for Applications is Sept. 30
The Ohio Historic Preservation Tax Credit Program provides a 25 percent tax credit for the rehabilitation expenses to owners and lessees of historically significant buildings. The program is competitive and receives applications March and September.
---
09/03/2013
Almost a Third of Travelers Choose Destinations Based on Eating Opportunities
Conducted by the travel market research firm Mandala Research and sponsored by the World Food Travel Association and other tourism organizations, the study shows that almost a third (30%) deliberately choose destinations based on the availability of activities related to local food and drink, whether it's a beer or wine festival, a farmers market, or a farm to table experience.
---
08/27/2013
Employer Witholding Tax Rate Tables Decrease 9%
Tourism industry members should be aware that changes to the state of Ohio tax code that were included in House Bill 59 will take effect on Sunday, Sept. 1, 2013.
---
08/23/2013
These travelers are younger, and they intend to take longer trips
Just in time to discuss during our final two Market-Making Forums on Outdoor Recreation and Nature Tourism, an Adventure Travel Market Study 2013 report has been released by the Adventure Travel Trade Association.
---
08/13/2013
American Hotel and Lodging Association issues statement of approval
The Executive Committee Task Force on State and Local Taxation of the National Conference of State Legislatures passes a resolution noting that states should pass legislation clarifying their tax laws and requiring online travel companies (OTCs) to remit taxes paid on their retail prices.
---
08/13/2013
TourismOhio Announces Availability of these Popular Calendars
Tourism industry businesses may order up to 200 copies of the 2013-14 Fall/Winter Ohio Calendar of Events.
---
08/12/2013
Provides advisory information, water temperatures, and more
Provided by the Ohio Department of Natural Resources, weekly easy-to-read bulletins provide information on whether or not advisories are in place on Lake Erie.
---
07/22/2013
By Staying Focused on Converting Day Trips to Overnights, TourismOhio's Campaign Works
By focusing on key travelers, TourismOhio achieves one of the highest ROIs in the country through a targeted approach at converting day trips to overnight stays. Director Goodman applauds office for "continued increase in our investment to market Ohio."
---
07/17/2013
Board Members to be Elected at October Ohio Conference on Tourism
At the Ohio Conference on Tourism, OTA members will elect leaders to represent their regions. Learn which seats are up for grabs, and submit your application today.
---
07/17/2013
Members of the newly appointed TourismOhio Advisory Board convened for the first time on Thursday, Dec. 19, 2013 from 1-3:00 p.m. at the Vern Riffe Center in Columbus.
---
07/11/2013
Creates Flexibility for those Districts who May Support Post-Labor Day School Starts
Last week, Ohio changed the minimum school year from 182 days to a minimum number of hours, and eliminated snow days (and other calamity days). This change provides greater flexibility for school districts to set their calendars, which may be good news for those districts who support a Post-Labor Day School start.
---
07/11/2013
7/11/2013 - Port Clinton, OH Tourism industry members, lawmakers, wildlife officials and media gathered in Port Clinton for the 35th annual Fish Ohio Day, hosted by Lake Erie Shores & Islands. Afterward, Governor Kasich signed House Bill 29, the "Boater Freedom Act", creating guidelines for safety inspections of Ohio watercraft.
---
07/11/2013
How are travelers researching and booking travel?
SMARTPHONE, TABLET, OR LAPTOP? Just as many travelers are researching and booking travel on mobile devices (tablets and smartphones) as they are on laptops. This is one of the findings from new research by JiWire.
---
07/01/2013
Canada and Mexico Lead Inbound Markets
A new report from the Office of Travel and Tourism Industries shows international travel represents 7% of all goods and service exports for the United States and details the importance of these travelers to the U.S. economy.
---
06/18/2013
Examine your Unpaid Internship Programs to Ensure Compliance
Last week's decision by a Federal District Court ruled in favor of unpaid interns who had worked on the Hollywood film, Black Swan. Guidelines for creating unpaid internships that are in compliance with the Fair Labor Standards Act are provided in this news article.
---
05/31/2013
Janet Johnson, Ohio Travel Association Deputy Director, and Rich Nachazel, President of Destination Toledo and an Ohio Travel Association board member, gather at the Toledo Zoo for the opening of a Wild Walkabout on May 24.
---
05/30/2013
---
05/30/2013
Who participates in cultural, historical, and nature-based activities? What drives these travelers to choose a destination or book tickets? OTA helped answer some of these questions, as well as provided recommendations for regional products at an Ohio Hill Country community meeting on May 29 at Burr Oak Lodge.
---
05/29/2013
The Perfect Pitch: Strategies in a Changing Media Environment
Members of Ohio's tourism industry gathered on Tuesday, May 28 at the Columbus Dispatch for an educational event focused on media relations in a changing media environment. The event was well attended by members of OTA and featured an educational seminar, editorial panel and a focus session on working with bloggers and other key influencers.
---
05/24/2013
OTA's executive director, Melinda Huntley, joined representatives from Ohio's Main Street Program, Piatt Castle, Ohio Humanities Council, Miami University and Wright State University today to discuss future development of the civic tourism program in Ohio.
---
05/24/2013
Testimony was heard yesterday during the Senate Ways and Means Committee. Providing testimony in support of the amendment was Matt MacLaren (Ohio Hotel and Lodging Association), Jacob Evans (Ohio Association of Convention and Visitors Bureaus), and Dirk Bengel, the GM of the Crowne Plaza Columbus Downtown and Lofts Hotel. The Ohio Travel Association attended the hearing and continues to personally reach out to lawmakers in support of the amendment, including followup responses to committee members.
---
04/19/2013
Rep. Ron Amstutz, chairman of the House budget-writing committee, has publicly stated that substantial changes to the proposed budget are underway and will be introduced by the House soon. The new budget proposal that will be presented by the House will supplant the governor's version.
---
03/27/2013
Nearly 60 tourism industry leaders took part in Ohio Tourism Legislative Day on March 20th at the Ohio Statehouse. The day began with breakfast and presentations from Rep. Cheryl Grossman, chair of the tourism caucus; Sen. Randy Gardner; Matt Ouimet, CEO Cedar Fair and Pat Barker, interim director of the Office of TourismOhio.
---
03/27/2013
The 2013 Ohio Travel Guide and Spring/Summer Calendar of Events is available for distribution, online or by mail. This free publication features captivating photography and provides information for sports and recreation seekers, family fun buffs, arts and culture connoisseurs, and history and heritage enthusiasts. The Guide's main focus is on the more than 3,000 listings featuring attractions, recreation, shopping, dining, visitor services and lodging, organized by the state's five travel regions.